FOR IMMEDIATE RELEASE:
AURP Announces Formation of "Clean Tech and Building Resiliency Caucus" Supporting Communities of Energy Innovation
Tucson, AZ, and College Park, MD, March 15, 2023 – AURP, a global nonprofit membership association serving university and institutional research park communities and innovation districts, today announced the formation of the AURP Clean Tech and Building Resiliency Caucus.
This new Caucus further expands AURP's organization scope to include clean tech firms and developers building energy-efficient facilities and communities of energy innovation. 

AURP membership comprises research parks and innovation districts that house thousands of clean tech firms designing new solar arrays, advanced wind turbines and better battery storage. These organizations also support real estate developers designing new technologies from environmentally friendly concrete, advanced HVAC systems and deployment of electrochromic glass.
"Establishing the Clean Tech Caucus is a natural extension of services to our AURP membership, helping link AURP clean tech members to each other and new federal energy investments," said Erin Koshut, AURP President and Executive Director of Cummings Research Park in Huntsville, Alabama.
Initial leadership of AURP's Clean Tech Caucus will include Katherine Magruder, Executive Director of the Maryland Clean Energy Center, located in the University of Maryland's Discovery District, an AURP Member research park.
"Working with AURP members, this Caucus can certainly help drive development of the clean energy innovation ecosystem in Maryland and across the U.S.," said Magruder.
According to RMI - an independent, non-partisan, nonprofit organization of experts across disciplines working to accelerate the clean energy transition - clean tech investment by the federal government will triple over the next decade, resulting in a $500 billion investment in the Green Economy. The CHIPS and Science Act, the Inflation Reduction Act, creation of the DOE Foundation for Energy Security and Innovation (FESI) and other federal initiatives have unleashed an unprecedented set of opportunities and funding for AURP members, real estate developers and AURP tenant companies.
Clean energy clusters are forming in dispersed areas around the U.S. (as the map below illustrates) and correspond with AURP membership, which includes leading research universities, developers of research labs and parks, and selected DOE lab research parks, including Sandia National Lab's Sandia Science & Technology Park, Idaho National Lab, University of Tennessee Research Park at Cherokee Farm near DOE Oak Ridge Laboratory and Stony Brook University Research and Development Park near DOE Brookhaven National Lab.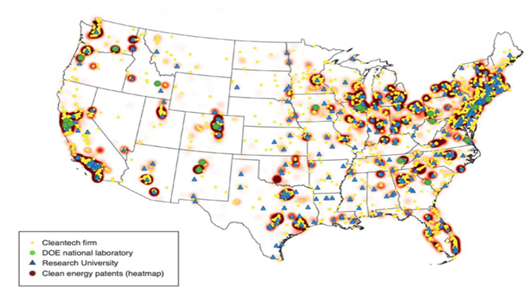 Heatmap of clean tech firms, DOE National Laboratories, research universities and clean energy patents (from University of Maryland Regional Clean Energy Study, 2022)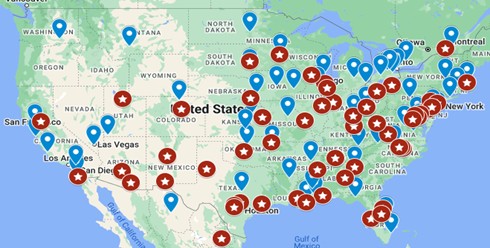 AURP members in the United States
The AURP Clean Tech and Building Resiliency Caucus will host an invitation-only evening reception at National Harbor in Maryland, Thursday, March 23, 2023, where the ARPA-E Energy Innovation Summit is taking place. AURP Clean Tech and Building Resiliency Caucus reception sponsorships are available.
AURP also will participate in the Federal Lab Consortium meeting in Cleveland, Ohio, Thursday, March 30, on the role of federal research labs, including DOE facilities, in creating regional technology communities.
In addition, the AURP Clean Energy and Building Resilience Caucus will meet at the University of Delaware's Science, Technology and Advanced Research Campus – STAR Campus at the Hotel Du Pont as part of the AURP International Conference, October 16-19, 2023. AURP is currently seeking Presentation Proposals for session presentations now through April 29, 2023.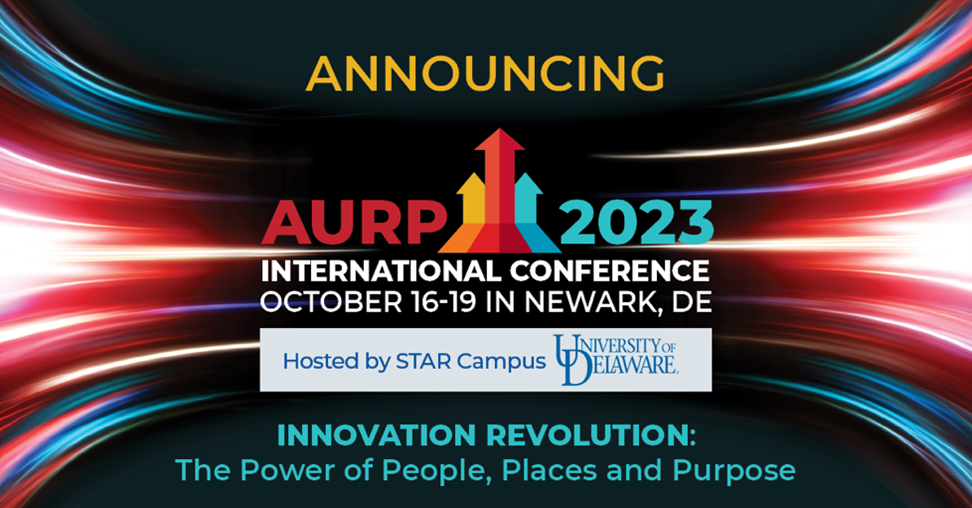 About AURP:
AURP, a non-profit international organization with offices in the Washington, D.C. area at the University of Maryland Discovery District and in Tucson, Arizona, at the University of Arizona Tech Park, focuses on creating communities of innovation and education for research parks, both operating and planned, plus innovation districts, incubators, accelerators and the businesses that support the research park industry. AURP and its global membership promote research, institute-industry relations and innovation districts to foster innovation and to facilitate the transfer of technology from such institutions to the private sector. Learn more: www.aurp.net
Media Contact:
Ken Berlack
AURP
[email protected]