AURP: Same Great Team, New Location!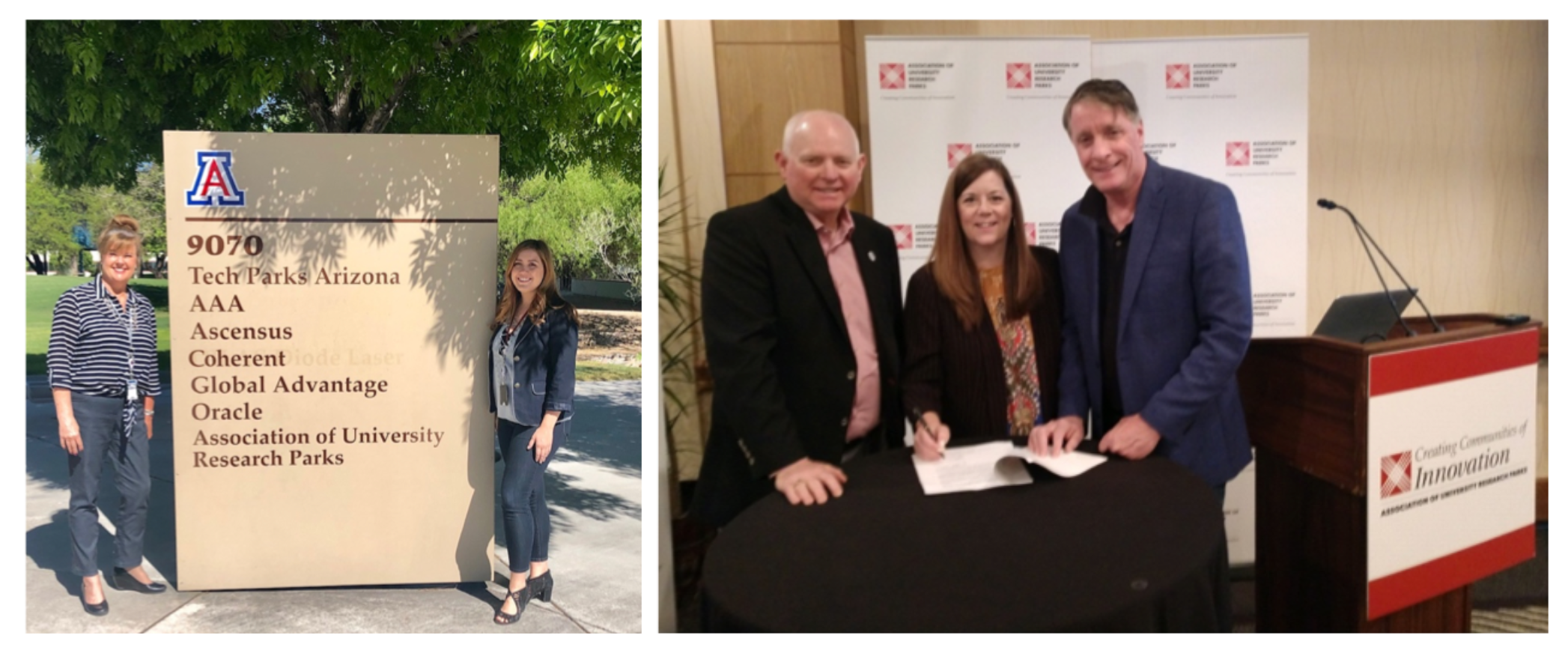 In addition to the AURP HQ2 offices in the DC region, in early March, the AURP headquarters moved to the UA Tech Park! The UA Tech Park, also located in Tucson, Arizona, is now home for our AURP team; ready to serve our AURP community.
In late 2018, the AURP Board of Directors approved a proposal presented by Tech Parks Arizona, to host the AURP headquarters in addition to special services, in exchange for recognition as a premier Diamond level AURP Annual Corporate Partner.
The AURP leadership and team thank Tech Parks Arizona for the support of our not-for-profit association, allowing us to streamline expenses while focusing on our members' needs. Read more.
Diamond Annual Corporate Partner

Showcase your community, research park, or innovation district by hosting AURP's 2020 International Conference. As the host park, you will be recognized in the field and attract worldwide attention to the exciting progress and success of your region. Click here to learn more.


Host proposal submissions deadline extended:

June 15th


 
AURP Salary Survey 2019
AURP is reaching our for your input on 2019 Salary Survey. The survey should take 3-5 minutes to complete. Your input is invaluable for all AURP members; gaining access to information on what their colleagues are receiving in the form of pay and benefits.
Participate in this year's Salary Survey by Friday, June 15th and then take advantage of the information we compile to assist you and your university research park or innovation district in determining equitable compensation for your leadership team.

 

Held in advance of the BIO International Convention, at AURP's BIO Health Caucus on June 2-3
, we will explore trends in life science research, funding resources, the marriage of life science and engineering in global partnership opportunities. Discover the unique roles that biomedical innovation districts and research parks play in innovation ecosystems in the U.S. and around the globe. Translating discoveries from the laboratory to the market has never been more important. Register Now!

er at your university health science center, hospital, or research, 
Alex Philippidis
, Senior News Editor of 
GEN
, with present the recent bio rankings for U.S. cities and bio clusters in Europe and Asia.
Christian Braemer
 of 
Benefunder
, and 
Chad Gobel 
of 
Gobel Group
 & Futurus Group, will discuss how donor-centric and fund-centric approaches can align university research offices with university donor relations offices to increase funding for infrastructure and startup companies in your bio health district.
Connect with AURP at booth #3955 or One-on-One Partnering! 
Curious about the agenda?
Click
here
to take a look!

AURP's 2019 International Conference
#AURPIC2019
Honored as AURP's 2014 Outstanding Research Park Award recipients, Technology Square at the
Georgia Institute of Technology, is one of the nation's premier innovation districts and a leader in
research and economic development, and host of AURP's 2019 International Conference (IC2019).
Mark your calendar now to join the AURP tribe at this year's networking even in global communities of innovation. Registration opens in Spring 2019.
Every year AURP seeks to honor research/science/tech parks, innovation districts, and individuals who have shown exceptional economic development, research and innovation discoveries, or leadership and service in our global community of innovation.
This is your opportunity to nominate a peer, park, or innovation district, encourage a peer to apply for such recognition, or to apply yourself. The AURP Awards of Excellence honorees will be recognized at the AURP International Conference 2019 in Atlanta, GA – hosted by Tech Square at Georgia Institute of Technology. Deadline: June 14.
In 2018, Genopole, a French biocluster dedicated to research in the fields of genetics and biotechnology, received the AURP Award of Excellence for Outstanding Research Park. This is the first European member to be acknowledged. Read more.