AURP NAMES WINNERS OF 2013 AWARDS OF EXCELLENCE
Oklahoma University Research Campus Receives 2013 Outstanding Research Park Award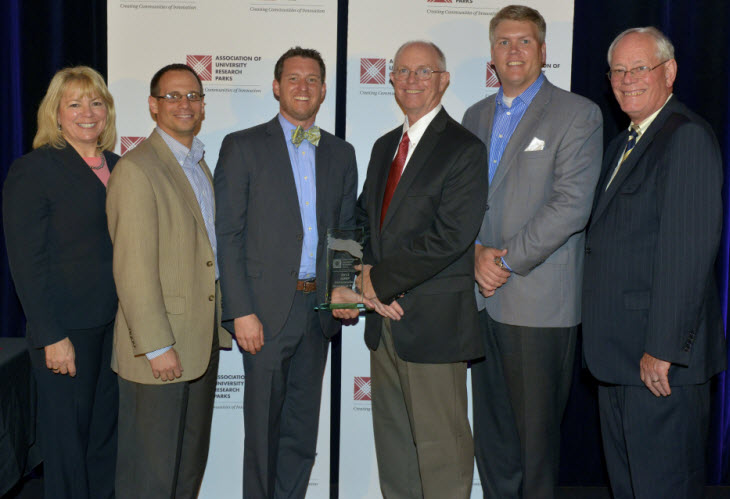 L to R: Jackie Kerby Moore, Chad Cochelle, Cameron McCoy, Chris Kuwitzky, MacKenzie Britt, David Baker - Click on image to view the Oklahoma University Research Campus 2013 Outstanding Research Park video.
PHILADELPHIA, Pa., September 26, 2013 – The Association of University Research Parks (AURP) named the Oklahoma University Research Campus as the 2013 Outstanding Research Park. The 18th Annual AURP Awards of Excellence ceremony, held this year in Philadelphia, recognized the achievements of outstanding research parks and those who direct them, and encourages the development of best practices among university research and science parks.
"AURP is proud to honor the Oklahoma University Research Campus as 2013 Outstanding Research Park for demonstrating exceptional leadership in innovation amongst university research parks, individuals and companies," said AURP President David Baker.
The University of Oklahoma's (OU) 277-acre Research campus, located adjacent to its main campus in Norman, Oklahoma, has featured more than $293M invested over the past ten years. "OU's URC is an organization that has played a major role in central Oklahoma's economic growth. We congratulate the OU Research Campus team for its exceptional accomplishments," added Mr. Baker.
Others recognized at the 18th Annual AURP Awards of Excellence include:
The University City Science Center (UCSC) -"Developing the Culture of Innovation Award"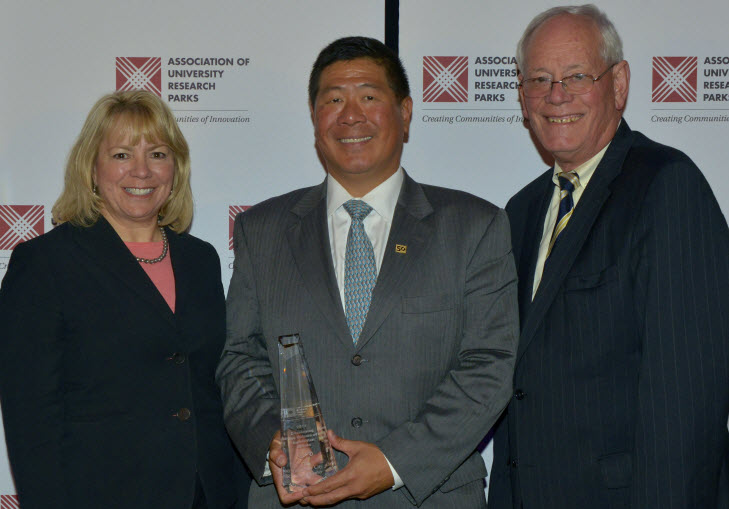 The UCSC has spent the last 50 years helping entrepreneurs to invent the future by providing both the physical space and the key resources needed to help commercialize new technologies throughout the Greater Philadelphia region. Over 350 organizations have graduated from the Science Center since its inception in 1963, and over 40,000 regional jobs have been generated by graduate and resident organizations started there.
Wexford Science & Technology, LLC, a BioMed Realty Company -"Leadership Award"
Recognized for its leadership in the development and marketing of flexible, state-of-the-art research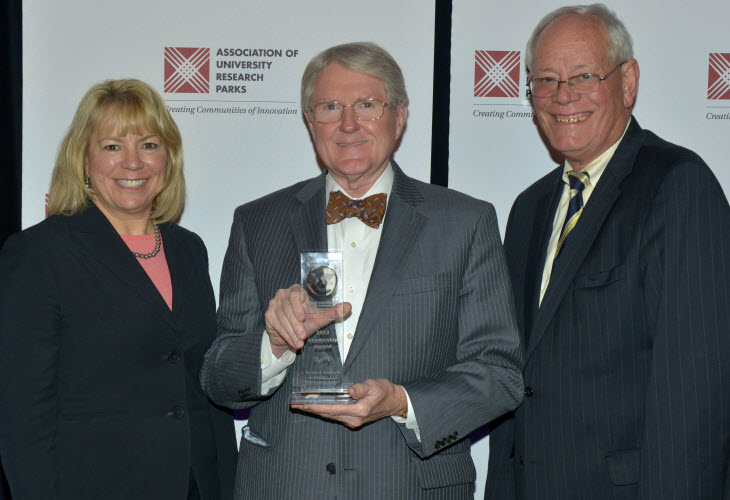 and laboratory space for universities, university-related research parks, and healthcare systems, Wexford has made an outstanding contribution to the success and total community impact of multiple university research and technology parks.
EMCORE Corporation, for its Multi-junction Solar Cells -"Innovation Award"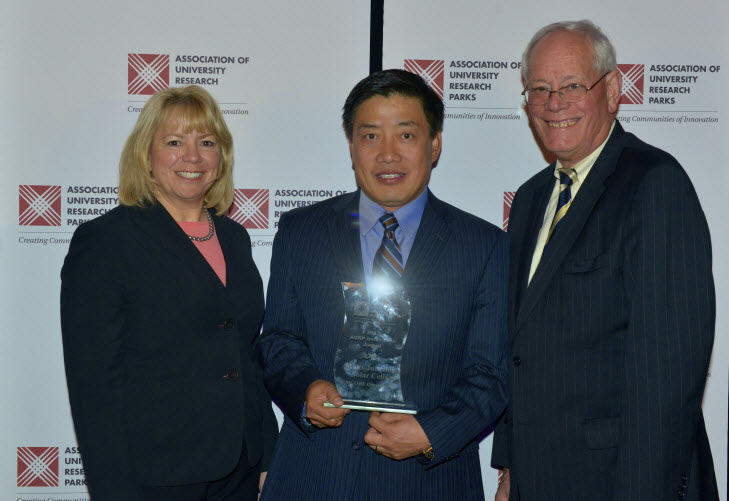 This award is presented to a company within a university research park that has produced a substantial and meaningful innovative product or service. EMCORE is a world leader in high-efficiency solar cells and solar panels for space power applications with the most advanced technology, superior product performance, and outstanding heritage (zero on-orbit power failure for over 110 spacecraft powered by EMCORE solar cells and solar panels).
J. Michael Bowman, Chairman & President, Delaware Technology Park, Inc. and former AURP President - "Vision Award"
Mr. Bowman has made outstanding contributions to the university research park community.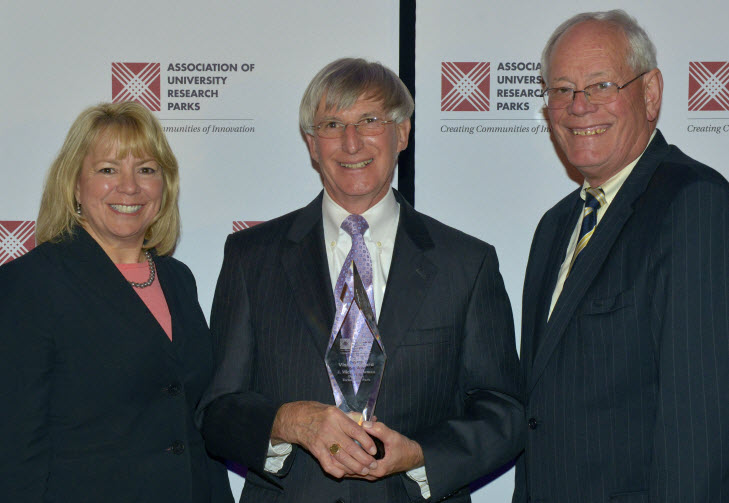 In 2009, Mr. Bowman was awarded the AURP Career Achievement Award, following his service on the Board of Directors, and his exceptional contributions as President.
Gregory Deason, Vice President & Executive Director, Purdue Research Park -"Career Achievement Award"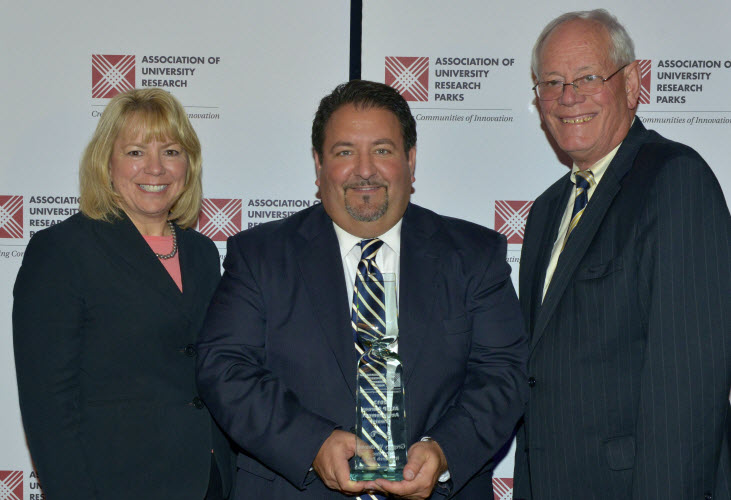 Mr. Deason has made research and science parks a central focus of his career, and has achieved success with multiple parks over a substantial period of time. He is best known as having led the team that repositioned Purdue Research Park in West Lafayette, which dates from 1961. He also led development of research parks in Merrillville, New Albany, and Indianapolis. Mr. Deason has been extremely active in AURP, serving on the Board of Directors for many years and as President.
Louisiana State University Innovation Park - "Emerging Research Park Award"
This award recognizes a new university research park, which excels in bringing technology from the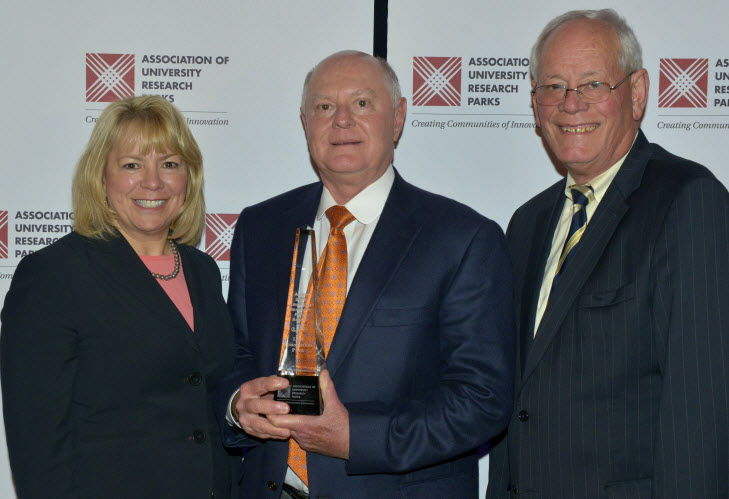 laboratory to economically viable business activities, and promotes the growth of businesses, jobs, and public revenue. While the Louisiana Business and Technology Center has been providing incubation services for 25 years, in 2008 LSU made the decision to proceed with the new Louisiana State Innovation Park. The Park has since become home to such organizations as the LSU Center for BioModular Multi-Scale Systems, the Louisiana Technology Transfer Office, and EA (Electronic Arts) Sports.
About AURP:
The Association of University Research Parks is a professional association of university related research and science parks. AURP's mission is to foster innovation, commercialization and economic growth through university, industry and government partnerships. For more information, visit AURP's Web site at www.aurp.net.