AURP 2016 International Conference
Make Your Plans Today!
Research Parks are evolving and changing rapidly, forcing parks to examine processes and strategies currently in place. This year's conference will address the current university research park landscape, and provide insight and best practices on how research parks can thrive through the power of ingenuity.

Register Today! For more information visit: http://international.aurp.net
Call for Nominations for AURP Board of Directors
AURP requests nominations for the 2016 Board of Directors. All research park members in good standing may nominate their representatives, or others, for service on the Board. Board service is for an initial term of three years, with a maximum of two three-year terms allowed.

We encourage all research park members of AURP to consider serving on the Board. AURP is poised for a bright future as the science and technology sector is undergoing dramatic growth and research parks are key to supporting that growth.

Nominations must be received no later than 8:00 am on Friday, July 8, 2016.
Click here for more information.
An Economic Catalyst For Greater Philadelphia
Graduate firms and current residents of the University City Science Center's business incubators support one out of every 100 jobs in Greater Philadelphia and drive nearly $13 billion in economic activity in the region, according to new analysis released today by the Economy League of Greater Philadelphia and Econsult Solutions, Inc. The University City Science Center: An Economic Catalyst for Greater Philadelphia study quantifies benefits associated with the Science Center's business incubation services including job growth, salaries and wages, economic output, and fiscal impact.
Download the complete study
Research Parks Redux
In the early 1980s, the idea of university-related research parks began to pique the interest of business leaders around the world. These unique planned properties offered close proximity to university researchers, student workforces, and the cutting-edge discoveries in science and technology that could lead to commercial success for the companies that took notice.
While each has its own unique approach and focus, numerous university research parks have sprung up over the past few decades. Traditionally, these facilities are located on open land masses near the universities that sponsor them, with goals to boost economic development and university reputations by successfully commercializing faculty research.
In recent years, as universities have dealt with tightened budgets, their research parks have taken on new and important roles. Most higher education institutions no longer have sufficient funding available to sustain the original parks model. Now, the hope is that more-comprehensive innovation centers—supported by successful companies founded on faculty research—will help sustain the universities and their local communities. It's a viable goal, and one that many parks are successfully reaching, but not without facing new challenges and experimenting with innovative solutions.
Click here to read more via NACUBO..

Huntsville Lands Prestigious 2017 Conference in Cummings Research Park

Cummings Research Park will welcome more than 200 professionals next year during the Association of University Research Parks' conference in Huntsville.
The City of Huntsville announced today it will host the international conference for the first time in fall 2017. It's a major coup for Research Park, which is developing a master plan that will transform the technology hub in Huntsville.
The city had been trying to lure the AURP conference to Huntsville for a decade when new Research Park Director Erin Koshut stepped in and made it happen. Read more via ai.com.

Building An Entrepreneurial Eco-System
Greg Deason, AURP Past President; Senior Vice President of Purdue Research Foundation; Executive Director of Purdue Foundry and Purdue Research Park

AURP 2015 AWARDS OF EXCELLENCE
University of Maryland Research Park Wins 2015 Outstanding Research Park Award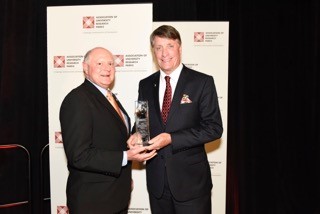 AURP President Charles D'Agostino, Executive Director of the Louisiana State University Innovation Park with Brian Darmody, Associate Vice President for Campus and Foundation Relations at the University of Maryland College Park.
Buffalo October 1, 2015 – University of Maryland Research Park today takes home top honors as the Association of University Research Parks' 2015 Outstanding Research Park, at the AURP Annual Awards of Excellence, hosted by Buffalo Niagara Medical Campus. This award program recognizes the achievements of outstanding university research parks and those who direct them, and encourages the development of best practices.
The UM Research Park is a public-private partnership between Corporate Office Properties Trust and the University of Maryland (UMD). UMD works with all Research Park companies to provide synergistic and collaborative opportunities. The Research Park offers locations from incubator space for start up companies to build-to-suit options for larger technology clients.
"Not only is our research park the largest in the state, but it stimulates major partnerships among private, federal, and academic scientists," said University of Maryland President Wallace D. Loh. "It helps make Greater College Park a major international hub of climate, food and language research, and the park will only grow in importance as our new startup innovation district develops next to it," he added.
"The national recognition for the UMD Research Park by AURP is testament to the hard work of many people over many years at the University of Maryland," said Brian Darmody, Associate Vice President for Corporate and Foundation Relations at the University of Maryland, who is also a past president of AURP. "I am pleased our park is being recognized not just for what it is, but what it portends for the future of university research parks as places to live, learn and earn."
The UMD Research Park environment provides employment for over 3,000 people in a variety of fields, and uniquely links government, university and private sector entities focusing on language science, environmental science, and food safety.
U.S. Commerce Department Announces $5 Million in Grants to Advance Innovation Across America
12 Grants Issued through the Regional Innovation Strategies Program to Support Planning and Feasibility Studies for Science and Research Parks
WASHINGTON—U.S. Assistant Secretary of Commerce for Economic Development Jay Williams announced the 12 recipients of the 2014 Science and Research Park Development Grants, part of the Regional Innovation Strategies program. The Regional Innovation Strategies (RIS) program, which is being run by the Department's Economic Development Administration's (EDA) Office of Innovation and Entrepreneurship (OIE), is a new initiative designed to advance innovation and capacity-building activities in regions across the country through three different types of grants: i6 Challenge grants, Cluster Grants for Seed Capital Funds, and Science and Research Park Development Grants. Secretary Pritzker announced the recipients of the i6 Challenge grants and Cluster Grants for Seed Capital funds in March. Read More
U.S. Commerce Secretary Announces $10 Million in Grants to Advance Innovation Across America
26 Grants Issued through the Regional Innovation Strategies Program to Spur Capacity Building and Access to Capital for Innovators and Entrepreneurs
WASHINGTON—U.S. Secretary of Commerce Penny Pritzker announced the first 26 recipients of the 2014 Regional Innovation Strategies program grants. The Regional Innovation Strategies (RIS) program, which is being run by the Department's Economic Development Administration's (EDA) Office of Innovation and Entrepreneurship (OIE), is a new initiative designed to advance innovation and capacity-building activities in regions across the country through three different types of grants: i6 Challenge grants, Cluster Grants for Seed Capital Funds, and Science and Research Park Development Grants. Secretary Pritzker announced the recipients of the first two funding opportunities. Recipients of the third grant will be announced in the coming weeks. Read More