- Amazon - Top 20 List
- AURP Going Global - B2B Opportunities
- How Do We Assist Our Client Companies with Their Business Development? What is Our Role as Park Leaders?
- How to Design and Develop & Implement a Foreign Direct Investment Strategy
- Lead Generation Program
---
Thursday, February 15th @ 2 pm EST
Community & Place-making
Chairs: Ellen Hemmerly, Charlie Dilks
Invited Guest: William A. L. Gaudreau, AIA
Bill will be speaking on the project known as the "Wake Forest Innovation Square"--a research park being developed in Winston-Salem. Bill Gaudreau has taken several old tobacco buildings that were abandoned and transferred them into a vibrant new community totaling over 1 million square feet and occupied by the Medical Center and other sophisticated users.
Biography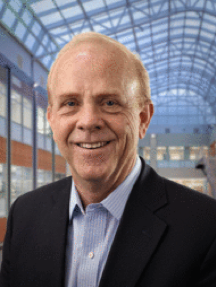 William A.L. Gaudreau, Gaudreau Inc., President, AIA
Mr. Gaudreau is the Principal-in-Charge of the firm's Science and High Technology markets where he directs facilities programming, master planning and design initiatives for teaching and research facilities, manufacturing and pilot plants, vivariums, and other related facilities in both the private and public sectors. He joined Gaudreau, Inc. in 1981, was named a principal in 1990 and Pres
His university clients have included Duke University, Wake Forest University and Medical Center, Johns Hopkins University, University of Maryland, University of Virginia and Cornell University. Federal clients include the National Institutes of Health (NIH), the National Cancer Institute (NCI), The Food and Drug Administration (FDA), Department of Defense (DOD) and the Drug Enforcement Agency (DEA). Private sector clients have included over 5
0 biotech and pharmaceutical companies.
- Retooling restrictive land covenants to reflect the new collaborative research model. Balancing the unique site opportunities for companies attracted to restrictive site covenants to conduct noxious activities co-located with companies seeking an open, porous and collaborative community.

- What are the ingredients necessary to enable new business incubation activity within a legacy research environment. Strategies to implement.

- Mobility – regional and last mile connections to town center, sponsoring institutions and among collaborative companies.

- Other infrastructure – fiber infrastructure and need to rationalize pipes, network privatization to avoid net neutrality monopolization, projecting and planning investment for big-data research, security, access to Internet2.

- Churn-generated re-use of specialized facilities.

- The value proposition for legacy research parks.

- How to Research Parks play in talent training, recruitment and retention.

- Inclusion – the evolving role of Tech Colleges and HBCU's in meeting the workforce requirements for the future. How can research parks support and benefit from this evolution?