iParks Webinar: The Perfect Triangle: University, Public and Private Sector Research Parks
Forming the Perfect Triangle is key to a successful "Community of Innovation." In this online Webinar, hear from two of the world's leading research parks on how they have aligned their park with their university, government and business community, created an entrepreneurial culture and driven economic growth.
Whether you're managing an existing park or in the planning stages, this online discussion will give you the tools you need to:
-Improve your park's alignment with university research
-Create a mission that includes individual stakeholders
-Develop a Board of "Champions"
-Enhance an entrepreneurial culture
-Differentiate your park to attract new tenants.
-Plan for growth
-Identify opportunity trends
Register Now - Watch this Webinar ON DEMAND.

Webinar Fee: $79 Members/ $99 Non-Members
About the Speakers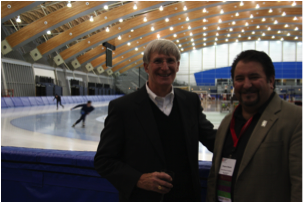 J. Michael Bowman
Chairman & President, Delaware Technology Park, Inc.
AURP Past President
Gregory W. Deason
Vice President & Executive Director, Purdue Research Park
AURP Past President
Greg Deason, Vice President and Executive Director - Purdue Research Park, leads the Purdue University-affiliated team that has transformed the Purdue Research Park in West Lafayette into an engine for Indiana's economic development initiatives. As Vice President and Executive Director, Mr. Deason has overall responsibilities for Purdue Research Park programs and facilities. Within the Purdue Research Park, Mr. Deason has been instrumental in the creation of the Purdue Technology Centers Complex – the largest university-affiliated business incubator complex in the country. The park in West Lafayette was founded in 1961 and was transformed during Mr. Deason's tenure beginning in 1995. During the past six years, Mr. Deason has led efforts to establish research parks throughout the state of Indiana. At present there are also parks in Merrillville (a Chicago suburb), New Albany (a Louisville suburb) and Indianapolis. In total the Purdue Research Parks account for over 1,200 acres, 64 buildings, over 2M square feet of space and nearly 4,000 workers.