AURP Peer2Peer

AURP Peer2Peer Network groups help professionals in the university-based incubator and tech park industry share challenges and lessons learned in a friendly, informal environment. Peer2Peer groups meet bi-monthly and provide an opportunity for individuals in similar roles and functions to exchange recommendations, best-practices and ideas to utilize AURP's best resource: its own members. Championed by both the Board and Advisory Council members for its flexibility, each Peer2Peer group is able to determine the format that best suits the members of the group, including possible guest speakers, special topics and roundtables. Whether you lead a research park, manage a facility, are the community manager at an incubator or lead the business development for a park, we know you will find a peer group that works for you.
Peer 2 Peer Network group calls are open to all AURP members, including their research park and university colleagues.
Peer2Peer Network groups and meet-up dates:
There will be no calls held in July, August and December.
The groups will meet in-person at Spring Training/Feb 25-Mar 1 and International Conference/Nov 4-7).
Here's what your colleagues are saying about the AURP Peer2Peer Network groups:
"I've really enjoyed working with colleagues across the country in such a close and casual manner. It's good to remember we are facing many of the same challenges and opportunities and to be able to discuss overarching vision along with implementation strategies and tactics is invaluable." - Allison Madden, MBA, Corporate Secretary and Director of Operations
University of South Florida Research Foundation, Inc.
"Park management is very specialized. It often feels like we are on an island. I'm really looking forward to the P2P groups providing us with a venue to leverage the experience and expertise of others on similar islands!" - Joe W. Meredith, PhD, President, Virginia Tech Corporate Research Center, Inc.
RECENT WEBINARS
Strategic Marketing webinars:

Steven Jast, President of Research On Investment (ROI)
"Leveraging the Evolution of Company Location Trends"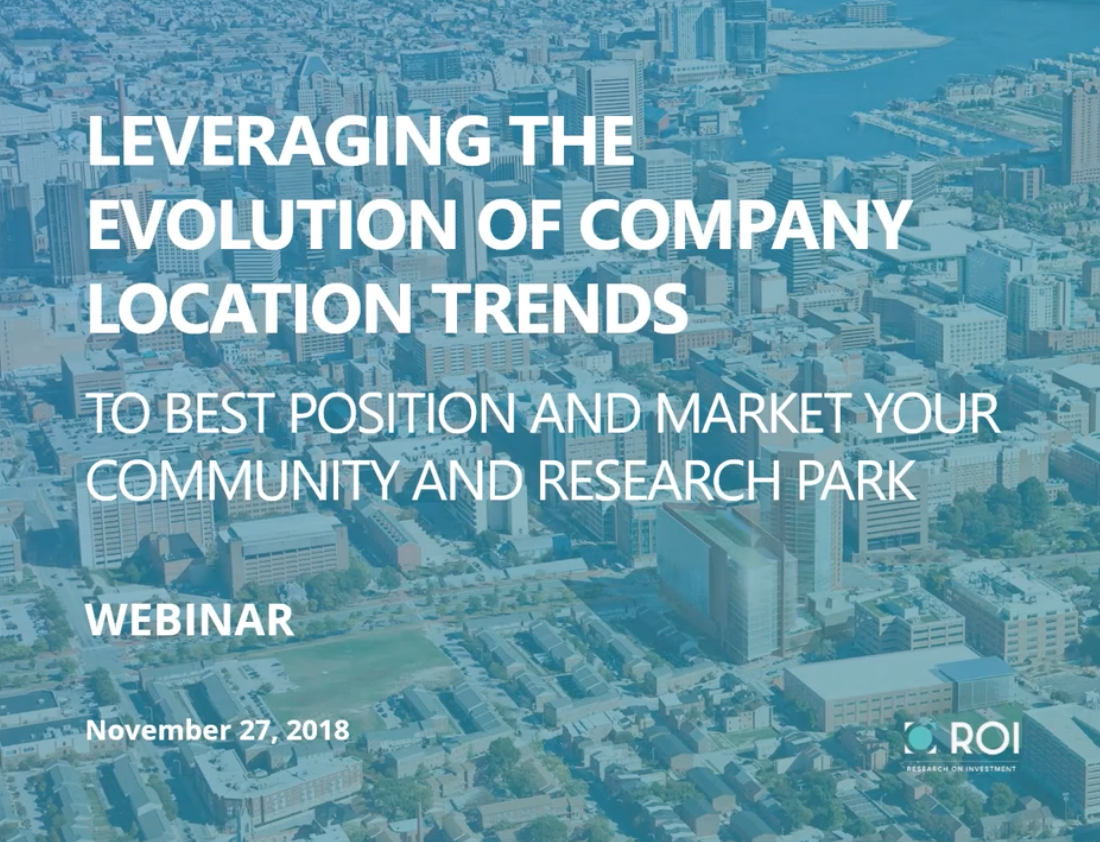 Learn more on the fundamental shift in how parks and economic development pros should present themselves to ultimately attract new business in this changing dynamic of site selection in your research community.
---
"World Order of Site De-Selection"
This webinar covers the site selection decision making process and its evolution over the last decade.
ROI specializes on lead generation through multiple platforms for economic development organization and B2B companies. Their global services have contributed to $10 billion of capital investment and the creation of hundreds of thousands of jobs