AURP Peer2Peer Network groups help professionals in the university-based incubator and tech park industry share challenges and lessons learned in a friendly, informal environment. Peer2Peer groups meet monthly and provide an opportunity for individuals in similar roles and functions to exchange recommendations, best-practices and ideas to utilize AURP's best resource: its own members. Championed by both the Board and Advisory Council members for its flexibility, each Peer2Peer group is able to determine the format that best suits the members of the group, including possible guest speakers, special topics and roundtables.

NOTE: You must be an AURP member in good standing and provide your AURP member ID to participate.
Click here to learn more.
Sign Up Today! Peer2Peer Network Calls begin May 2nd!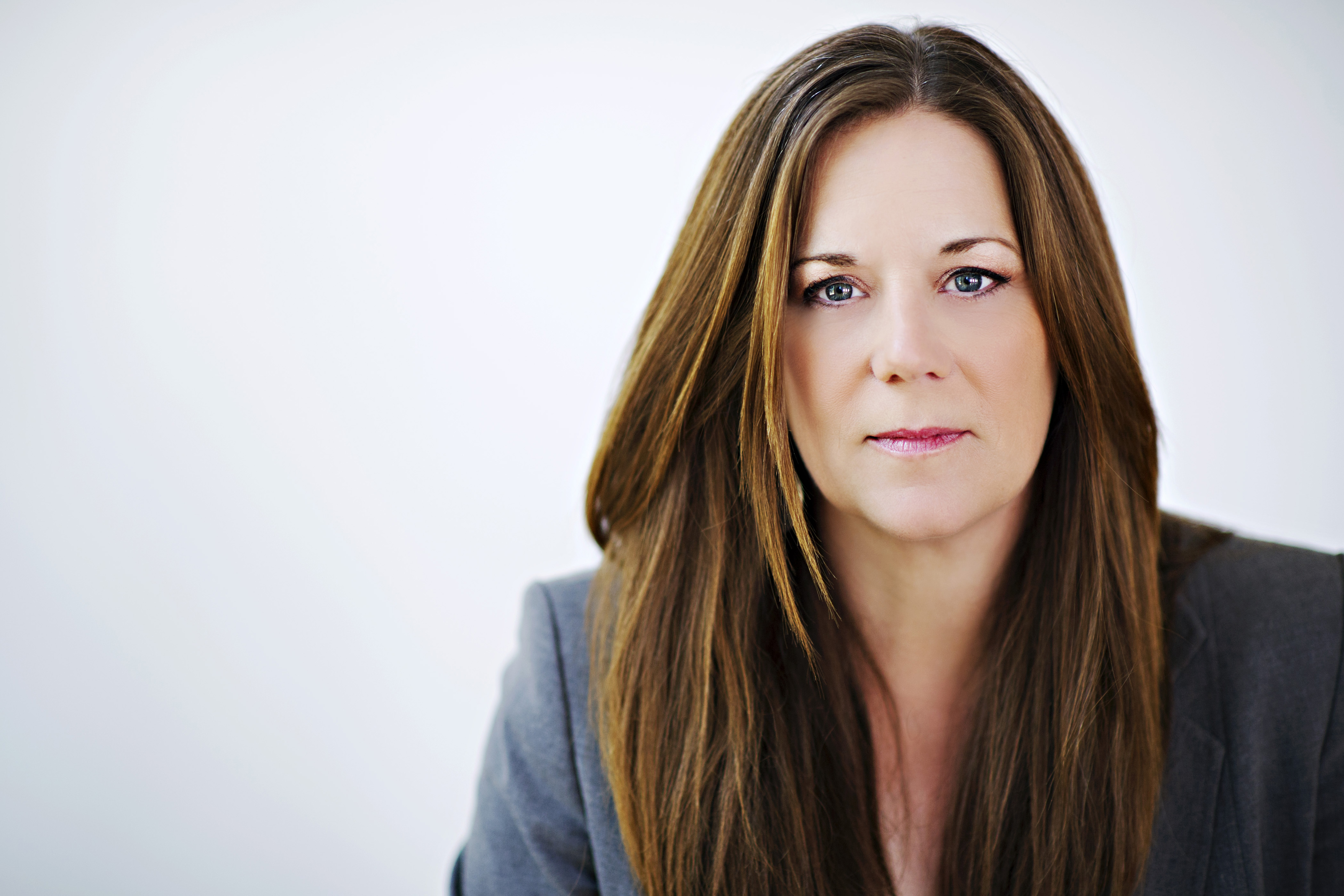 Please help us in welcoming our new Chief Executive Officer, Carol Stewart. She currently manages the David Johnston Research + Technology Park at the University of Waterloo, where she spearheads creation, planning, and development of the park, among other responsibilities and leaves the R+T Park as it approaches the one million square foot milestone.
Carol is an experienced research park leader with a more than 25-year career serving the academic/not-for-profit sector, as well as the high-tech industry in Waterloo region located in Ontario, Canada. She is the Co-Founder and Immediate Past-President of AURP Canada (the association's Canadian chapter) and has been an active board member of AURP since 2010.
Click here to view the entire press release.
AURP's Nominations for Board Service
Looking to get more involved within AURP? AURP is requesting nominations for the 2017 Board of Directors Election to be held this summer. All research park members in good standing may nominate themselves, or others, for service on the Board.
We encourage all research park members of AURP to consider serving on the Board. AURP is poised for a bright future as the science and technology sector is undergoing dramatic growth and research parks are key to supporting that growth.
Click here to learn more.
AURP's Outreach to the New U.S. Administration
With Inauguration Day less than nine days away, AURP has communicated to President-Elect Trump, requesting discussion with the new presidential team and the Association's governing board. AURP proactively advocates for the critical innovation policies and support needed for the advancement of University Research Parks across the United States. A letter sent to President-Elect Trump highlights how University Research Parks and Innovation/Venture Districts represent the emerging innovation infrastructure in the United States. AURP provides recommendations to strengthen and target improvements for the innovation community by providing links to several white papers, some of which were created by AURP and others that were done in conjunction with partners like The Brookings Institution. Making an advanced connection with the new Administration will stress the importance of University Research Parks and the significant impact they have on the U.S. economy.
AURP encourages our membership and innovation community to forward this letter on to their state delegation to converge on a like-minded, power-house strategy to strengthen and support our the United States Community of Innovation.

Click Here to read the letter.
Bolstering Tech Transfer & Commercialization Policies
On Wednesday, January 11, 2017, AURP Past President Brian Darmody, Associate Vice President for Corporate and Foundation Relations at the University of Maryland and thought leaders from the Information Technology & Innovation Foundation (ITIF) and The Brookings Institution plus additional organizational executives, gathered at the Dirksen Senate Office Building to discuss how the incoming administration and Congress can bolster technology transfer and commercialization policies to ensure that federal R&D investments yield stronger commercial results, in large part by better coordinating with regional economies.
ITIF and The Brookings Institution have recently proposed 50 innovative policy ideas to do just that, including the recommendations presented from the AURP Power of Place and The Power of Innovation white papers. Click here to view their recommendations.
AURP Elects New
2017 Board Members and Executive Officers
Tucson, AZ, Oct. 13, 2016 –The Association of University Research Parks (AURP) today announces the election of its new 2017 board members and new executive officers. Newly elected members of the AURP Board include:
• Stephen Frayser, MBA, MPA, Executive Director of STAR Park at Texas State University

• Greg King, CEcD, Associate Vice President for Economic Development at Georgia Institute of Technology

• Tiffany Griego, MBA, Managing Director of Asset Management for Stanford Real Estate

• Leah Burton, Director of Centennial Campus Partnership Office and Industry Alliances at NC State University
Charles D'Agostino, MBA, Executive Director of the LSU Innovation Park, completed his two-year term as President of the AURP Board of Directors and will continue as Past President of AURP. Mason Ailstock, President and CEO of Convergent Consultants, PBC, former COO of The Research Triangle Park in North Carolina, will now serve as AURP President for a two-year term. Jeanne Mell, Vice President of Marketing Communications at The University City Science Center, will serve as Vice President. Ken Marcus, Director at University of Arizona Science and Technology Park and Chief Financial Officer of the Campus Research Corporation, will serve as Treasurer. Stephen Frayser, MBA, MPA, Executive Director of STAR Park at Texas State University, will serve as Secretary. At-large officers include, Leah Burton, Director, Partnership Office & Industry Alliances, Centennial Campus, North Carolina State University, and Aaron Miscenich, MBA, President and Chief Executive Officer, New Orleans BioInnovation Center, Inc.
"University research parks are the hubs for innovation and collaboration throughout the world—fostering groundbreaking discoveries that are brought about through unique partnerships," said new AURP President Ailstock. "Research parks are the convergence of industry, private companies and academia—bridging the gap and working to cultivate a more prosperous global future. It is both my honor and pleasure to assume the role of AURP President, and I look forward to taking the association to new heights." Review the full AURP Leadership Team.

AURP Announces 21st Annual Awards Of Excellence Winners At The 2016 International Conference In Oklahoma City
Western Research Parks Recognized with 2016 Outstanding Research Park Award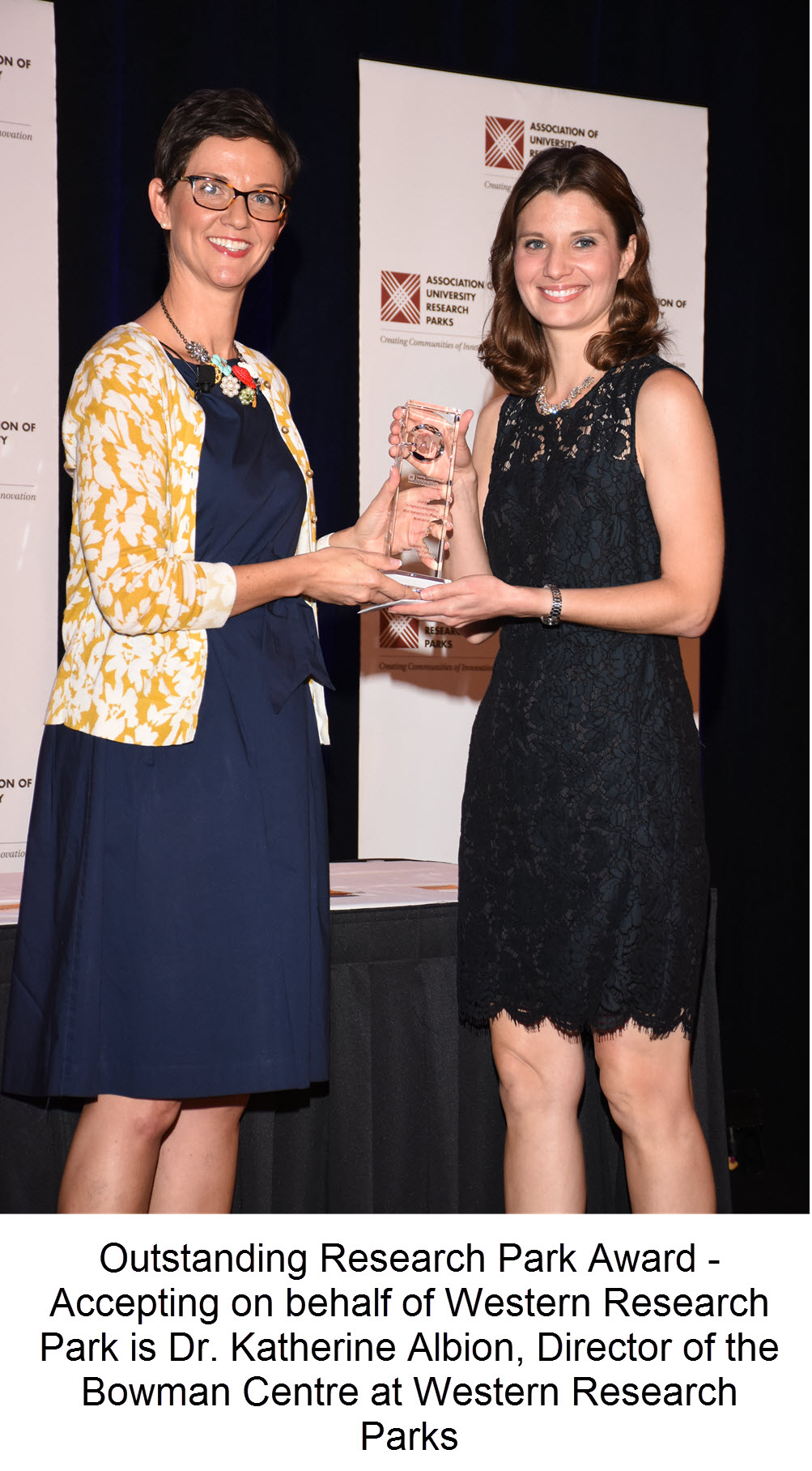 OKLAHOMA CITY, OK, September 29, 2016 – The Association of University Research Parks (AURP), a professional association of university related research and science parks, announced today the winners of its 21st Annual Awards of Excellence, which were presented during an awards luncheon held at the association's 2016 International Conference in Oklahoma City. Award categories included: the Outstanding Research Park Award, Emerging Research Park Award, Innovation Awards, Career Achievement Award, and the Leadership Award.
The Outstanding Research Park Award recognizes university research parks and their leadership and encourages continuous evaluation and development of best practices for the research park community. This year's prestigious award in this category went to Western Research Parks, part of Western University located at London, Ontario in Canada. The community of three research park campuses includes the original park now named Western Discovery Park, the Western Advanced Manufacturing Park and the Western-Sarnia-Lambton Research Park.
"Western is extremely proud to be the first research park in Ontario to receive this recognition," said University of Western Ontario President Amit Chakma. "Not only are we creating a world-class research culture at Western, but we're doing so in conjunction with our community to bring both economic and societal benefits locally, nationally and internationally."
Click here to real the entire release about all the winners.
An Economic Catalyst For Greater Philadelphia
Graduate firms and current residents of the University City Science Center's business incubators support one out of every 100 jobs in Greater Philadelphia and drive nearly $13 billion in economic activity in the region, according to new analysis released today by the Economy League of Greater Philadelphia and Econsult Solutions, Inc. The University City Science Center: An Economic Catalyst for Greater Philadelphia study quantifies benefits associated with the Science Center's business incubation services including job growth, salaries and wages, economic output, and fiscal impact.
Download the complete study
Huntsville Lands Prestigious 2017 Conference in Cummings Research Park

Cummings Research Park will welcome more than 200 professionals next year during the Association of University Research Parks' conference in Huntsville.
The City of Huntsville announced today it will host the international conference for the first time in fall 2017. It's a major coup for Research Park, which is developing a master plan that will transform the technology hub in Huntsville.
The city had been trying to lure the AURP conference to Huntsville for a decade when new Research Park Director Erin Koshut stepped in and made it happen. Read more via ai.com.

Building An Entrepreneurial Eco-System
Greg Deason, AURP Past President; Senior Vice President of Purdue Research Foundation; Executive Director of Purdue Foundry and Purdue Research Park