Huntsville lands prestigious 2017 conference in Cummings Research Park

Cummings Research Park will welcome more than 200 professionals next year during the Association of University Research Parks' conference in Huntsville.
The City of Huntsville announced today it will host the international conference for the first time in fall 2017. It's a major coup for Research Park, which is developing a master plan that will transform the technology hub in Huntsville.
The city had been trying to lure the AURP conference to Huntsville for a decade when new Research Park Director Erin Koshut stepped in and made it happen.
"It's going to have a huge impact, partly because we're exposing people from all over the world to the Huntsville market," said Judy Ryals, president and CEO of the Huntsville/Madison County Convention & Visitors Bureau. "We feel like we're going to get some tourism benefit from it in the future as well as additional conferences once they see all that we have to offer." Read more via ai.com.
University Research Park Leaders From Across the Country Gather to Kick-off the Annual Association of University Research Parks 2016 Spring Training Event
TUCSON, AZ, April 11, 2016 – Today, University research park leaders, as well as science, innovation and technology park executives gather from across the country to kick-off the Association of University Research Parks (AURP) annual Spring Training Meeting in Tempe, Arizona. Spring Training is a five-day, unique and intense professional development event that is tailored to address issues and possible scenarios that university research park directors face in their positions. Spring Training also includes optional events that provide opportunities for attendees to meet and network with other park directors.

"We consistently hear from attendees, that Spring Training is the event that research park leaders should attend," said AURP President Charlie D'Agostino. "We tap innovative thought leaders that bring valuable tools and innovation solutions to help our attendees shape the vision and direction of their parks. It's an opportunity for research park directors to receive the most tailored professional training available in the world." Read more.
Building An Entrepreneurial Eco-System
Greg Deason, AURP Past President; Senior Vice President of Purdue Research Foundation; Executive Director of Purdue Foundry and Purdue Research Park

AURP 2015 AWARDS OF EXCELLENCE
University of Maryland Research Park Wins 2015 Outstanding Research Park Award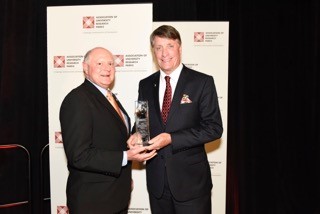 AURP President Charles D'Agostino, Executive Director of the Louisiana State University Innovation Park with Brian Darmody, Associate Vice President for Campus and Foundation Relations at the University of Maryland College Park.
Buffalo October 1, 2015 – University of Maryland Research Park today takes home top honors as the Association of University Research Parks' 2015 Outstanding Research Park, at the AURP Annual Awards of Excellence, hosted by Buffalo Niagara Medical Campus. This award program recognizes the achievements of outstanding university research parks and those who direct them, and encourages the development of best practices.
The UM Research Park is a public-private partnership between Corporate Office Properties Trust and the University of Maryland (UMD). UMD works with all Research Park companies to provide synergistic and collaborative opportunities. The Research Park offers locations from incubator space for start up companies to build-to-suit options for larger technology clients.
"Not only is our research park the largest in the state, but it stimulates major partnerships among private, federal, and academic scientists," said University of Maryland President Wallace D. Loh. "It helps make Greater College Park a major international hub of climate, food and language research, and the park will only grow in importance as our new startup innovation district develops next to it," he added.
"The national recognition for the UMD Research Park by AURP is testament to the hard work of many people over many years at the University of Maryland," said Brian Darmody, Associate Vice President for Corporate and Foundation Relations at the University of Maryland, who is also a past president of AURP. "I am pleased our park is being recognized not just for what it is, but what it portends for the future of university research parks as places to live, learn and earn."
The UMD Research Park environment provides employment for over 3,000 people in a variety of fields, and uniquely links government, university and private sector entities focusing on language science, environmental science, and food safety.
U.S. Commerce Department Announces $5 Million in Grants to Advance Innovation Across America
12 Grants Issued through the Regional Innovation Strategies Program to Support Planning and Feasibility Studies for Science and Research Parks
WASHINGTON—U.S. Assistant Secretary of Commerce for Economic Development Jay Williams announced the 12 recipients of the 2014 Science and Research Park Development Grants, part of the Regional Innovation Strategies program. The Regional Innovation Strategies (RIS) program, which is being run by the Department's Economic Development Administration's (EDA) Office of Innovation and Entrepreneurship (OIE), is a new initiative designed to advance innovation and capacity-building activities in regions across the country through three different types of grants: i6 Challenge grants, Cluster Grants for Seed Capital Funds, and Science and Research Park Development Grants. Secretary Pritzker announced the recipients of the i6 Challenge grants and Cluster Grants for Seed Capital funds in March. Read More
U.S. Commerce Secretary Announces $10 Million in Grants to Advance Innovation Across America
26 Grants Issued through the Regional Innovation Strategies Program to Spur Capacity Building and Access to Capital for Innovators and Entrepreneurs
WASHINGTON—U.S. Secretary of Commerce Penny Pritzker announced the first 26 recipients of the 2014 Regional Innovation Strategies program grants. The Regional Innovation Strategies (RIS) program, which is being run by the Department's Economic Development Administration's (EDA) Office of Innovation and Entrepreneurship (OIE), is a new initiative designed to advance innovation and capacity-building activities in regions across the country through three different types of grants: i6 Challenge grants, Cluster Grants for Seed Capital Funds, and Science and Research Park Development Grants. Secretary Pritzker announced the recipients of the first two funding opportunities. Recipients of the third grant will be announced in the coming weeks. Read More