AURP Announces 21st Annual Awards Of Excellence Winners At The 2016 International Conference In Oklahoma City
Western Research Parks Recognized with 2016 Outstanding Research Park Award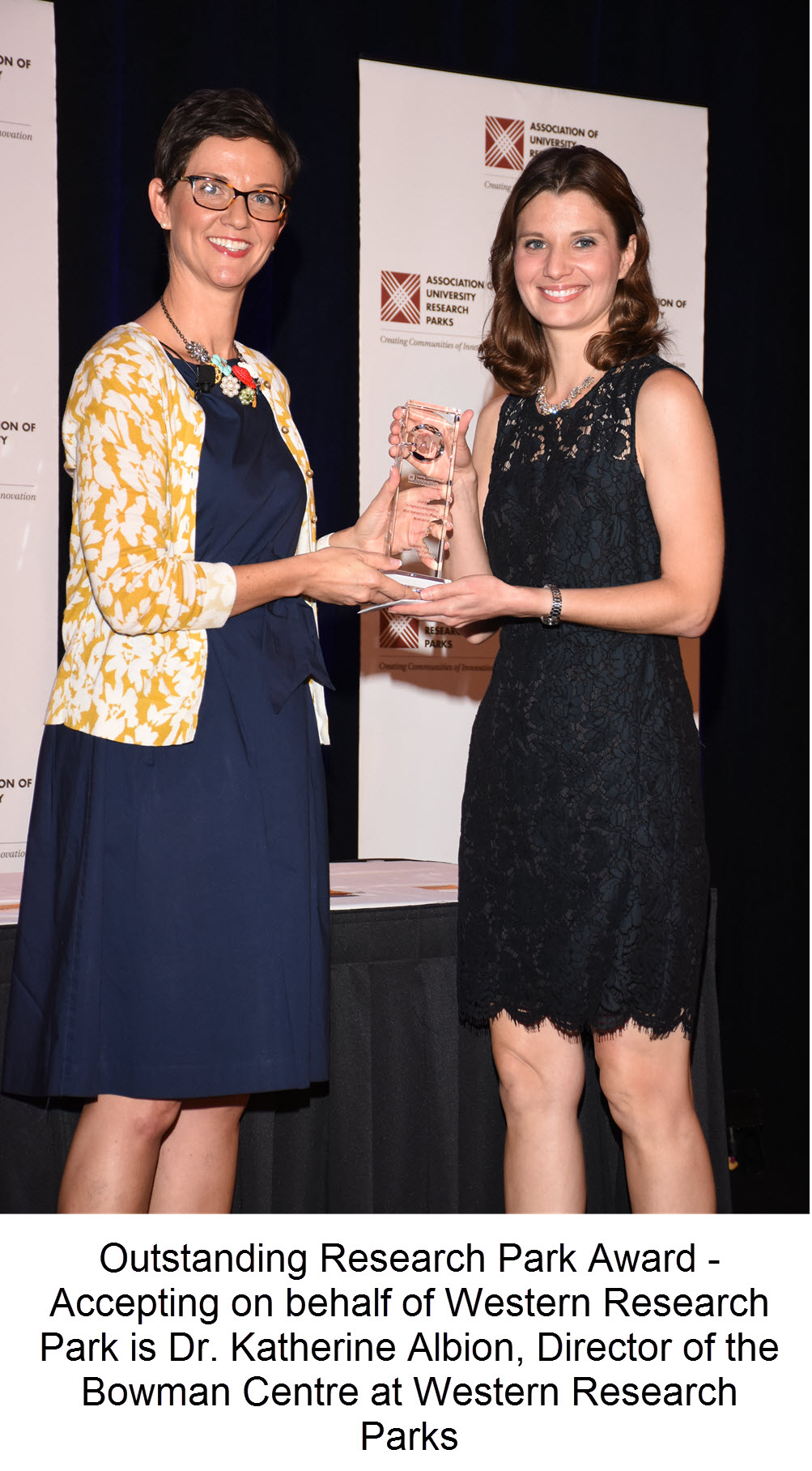 OKLAHOMA CITY, OK, September 29, 2016 – The Association of University Research Parks (AURP), a professional association of university related research and science parks, announced today the winners of its 21st Annual Awards of Excellence, which were presented during an awards luncheon held at the association's 2016 International Conference in Oklahoma City. Award categories included: the Outstanding Research Park Award, Emerging Research Park Award, Innovation Awards, Career Achievement Award, and the Leadership Award.
The Outstanding Research Park Award recognizes university research parks and their leadership and encourages continuous evaluation and development of best practices for the research park community. This year's prestigious award in this category went to Western Research Parks, part of Western University located at London, Ontario in Canada. The community of three research park campuses includes the original park now named Western Discovery Park, the Western Advanced Manufacturing Park and the Western-Sarnia-Lambton Research Park.
"Western is extremely proud to be the first research park in Ontario to receive this recognition," said University of Western Ontario President Amit Chakma. "Not only are we creating a world-class research culture at Western, but we're doing so in conjunction with our community to bring both economic and societal benefits locally, nationally and internationally."
The parks serve as a major showcase of Western University's commitment to both research, with the Stiller Centre, Canada's largest biotech incubator, the Bowman Centre, Canada's largest clean-tech incubator, focused on large-scale industrial technology—as well as economic development and engagement within the region, with an estimated $125 million contributed back to the local community.
"This is a fitting recognition for our research parks, which have played a significant role in fortifying relationships between academics and the business community for nearly 30 years," said Western's Vice President Research John Capone. "We're proud of the companies the parks have attracted, strengthened and retained in our region—allowing us to become a key contributor to southwestern Ontario's business ecosystem."
Click here to real the entire release about all the winners.
AURP Welcomes Its Newest Members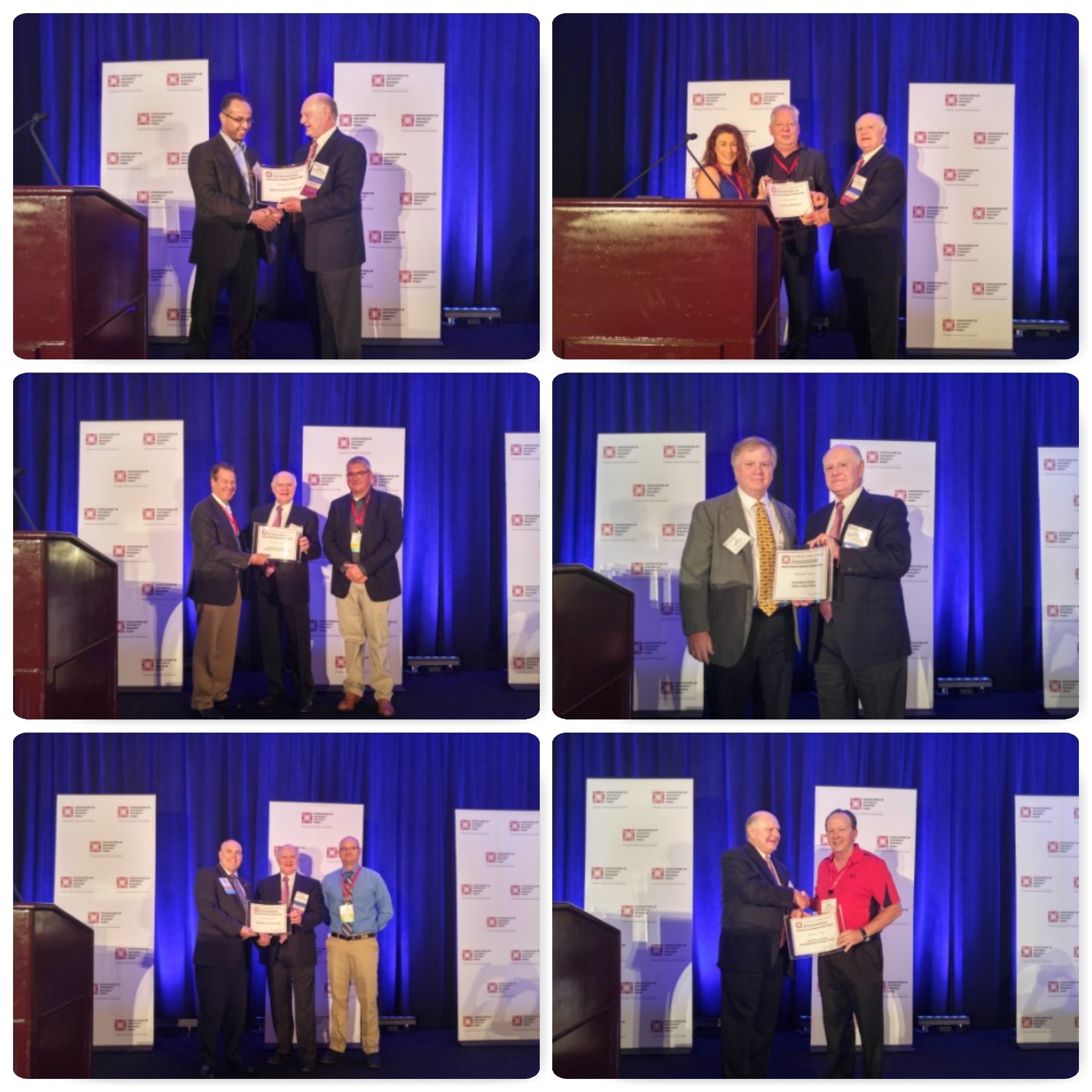 During this year's 2016 AURP International Conference, we welcomed a new line-up of members at a special breakfast ceremony held in their honor. Please join us in welcoming AURP's newest members:
AURP 2016 International Conference Kicks-off in Oklahoma City
OKLAHOMA CITY, OK, September 28, 2016 – The Association of University Research Parks (AURP) kicked-off its annual International Conference today in Oklahoma City (OKC) with hosts University of Oklahoma (OU) Research Campus and the Greater Oklahoma City Chamber. This event is being held primarily at the Skirvin Hilton today through September 30, 2016—drawing industry experts and research park leaders from across the U.S. and internationally.
This year's theme is "Harnessing the Winds of Change: Pioneering the Future of Ingenuity at University Research Parks." With research parks evolving and changing rapidly, parks are forced to examine and improve upon current processes and strategies. This year's conference will address this movement, as well as the current university research park landscape, and provide insight and best practices on how research parks can thrive through the power of ingenuity.
Click here to read the entire release.
An Economic Catalyst For Greater Philadelphia
Graduate firms and current residents of the University City Science Center's business incubators support one out of every 100 jobs in Greater Philadelphia and drive nearly $13 billion in economic activity in the region, according to new analysis released today by the Economy League of Greater Philadelphia and Econsult Solutions, Inc. The University City Science Center: An Economic Catalyst for Greater Philadelphia study quantifies benefits associated with the Science Center's business incubation services including job growth, salaries and wages, economic output, and fiscal impact.
Download the complete study
Research Parks Redux
In the early 1980s, the idea of university-related research parks began to pique the interest of business leaders around the world. These unique planned properties offered close proximity to university researchers, student workforces, and the cutting-edge discoveries in science and technology that could lead to commercial success for the companies that took notice.
While each has its own unique approach and focus, numerous university research parks have sprung up over the past few decades. Traditionally, these facilities are located on open land masses near the universities that sponsor them, with goals to boost economic development and university reputations by successfully commercializing faculty research.
In recent years, as universities have dealt with tightened budgets, their research parks have taken on new and important roles. Most higher education institutions no longer have sufficient funding available to sustain the original parks model. Now, the hope is that more-comprehensive innovation centers—supported by successful companies founded on faculty research—will help sustain the universities and their local communities. It's a viable goal, and one that many parks are successfully reaching, but not without facing new challenges and experimenting with innovative solutions.
Click here to read more via NACUBO.

Huntsville Lands Prestigious 2017 Conference in Cummings Research Park

Cummings Research Park will welcome more than 200 professionals next year during the Association of University Research Parks' conference in Huntsville.
The City of Huntsville announced today it will host the international conference for the first time in fall 2017. It's a major coup for Research Park, which is developing a master plan that will transform the technology hub in Huntsville.
The city had been trying to lure the AURP conference to Huntsville for a decade when new Research Park Director Erin Koshut stepped in and made it happen. Read more via ai.com.

Building An Entrepreneurial Eco-System
Greg Deason, AURP Past President; Senior Vice President of Purdue Research Foundation; Executive Director of Purdue Foundry and Purdue Research Park

U.S. Commerce Department Announces $5 Million in Grants to Advance Innovation Across America
12 Grants Issued through the Regional Innovation Strategies Program to Support Planning and Feasibility Studies for Science and Research Parks
WASHINGTON—U.S. Assistant Secretary of Commerce for Economic Development Jay Williams announced the 12 recipients of the 2014 Science and Research Park Development Grants, part of the Regional Innovation Strategies program. The Regional Innovation Strategies (RIS) program, which is being run by the Department's Economic Development Administration's (EDA) Office of Innovation and Entrepreneurship (OIE), is a new initiative designed to advance innovation and capacity-building activities in regions across the country through three different types of grants: i6 Challenge grants, Cluster Grants for Seed Capital Funds, and Science and Research Park Development Grants. Secretary Pritzker announced the recipients of the i6 Challenge grants and Cluster Grants for Seed Capital funds in March. Read More
U.S. Commerce Secretary Announces $10 Million in Grants to Advance Innovation Across America
26 Grants Issued through the Regional Innovation Strategies Program to Spur Capacity Building and Access to Capital for Innovators and Entrepreneurs
WASHINGTON—U.S. Secretary of Commerce Penny Pritzker announced the first 26 recipients of the 2014 Regional Innovation Strategies program grants. The Regional Innovation Strategies (RIS) program, which is being run by the Department's Economic Development Administration's (EDA) Office of Innovation and Entrepreneurship (OIE), is a new initiative designed to advance innovation and capacity-building activities in regions across the country through three different types of grants: i6 Challenge grants, Cluster Grants for Seed Capital Funds, and Science and Research Park Development Grants. Secretary Pritzker announced the recipients of the first two funding opportunities. Recipients of the third grant will be announced in the coming weeks. Read More